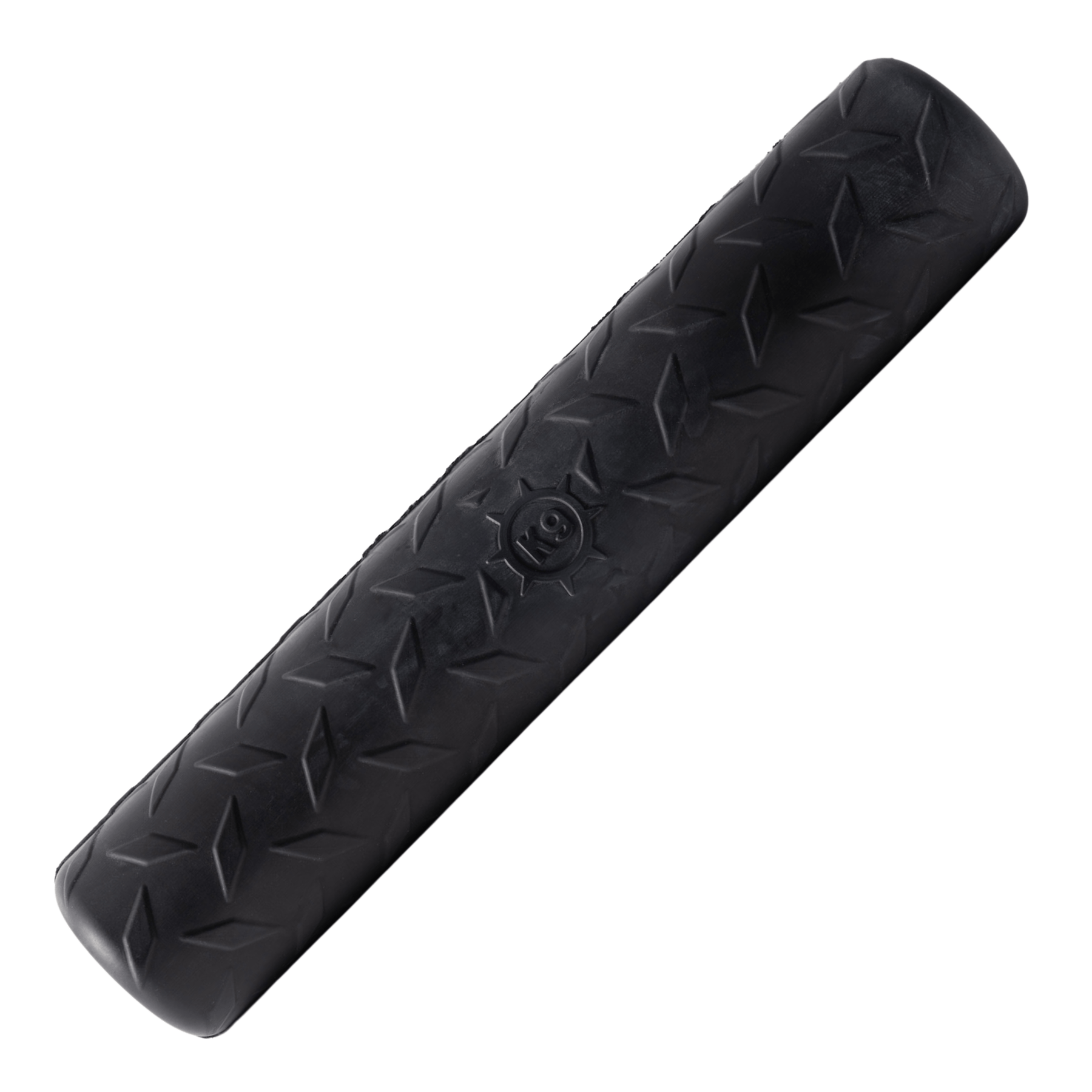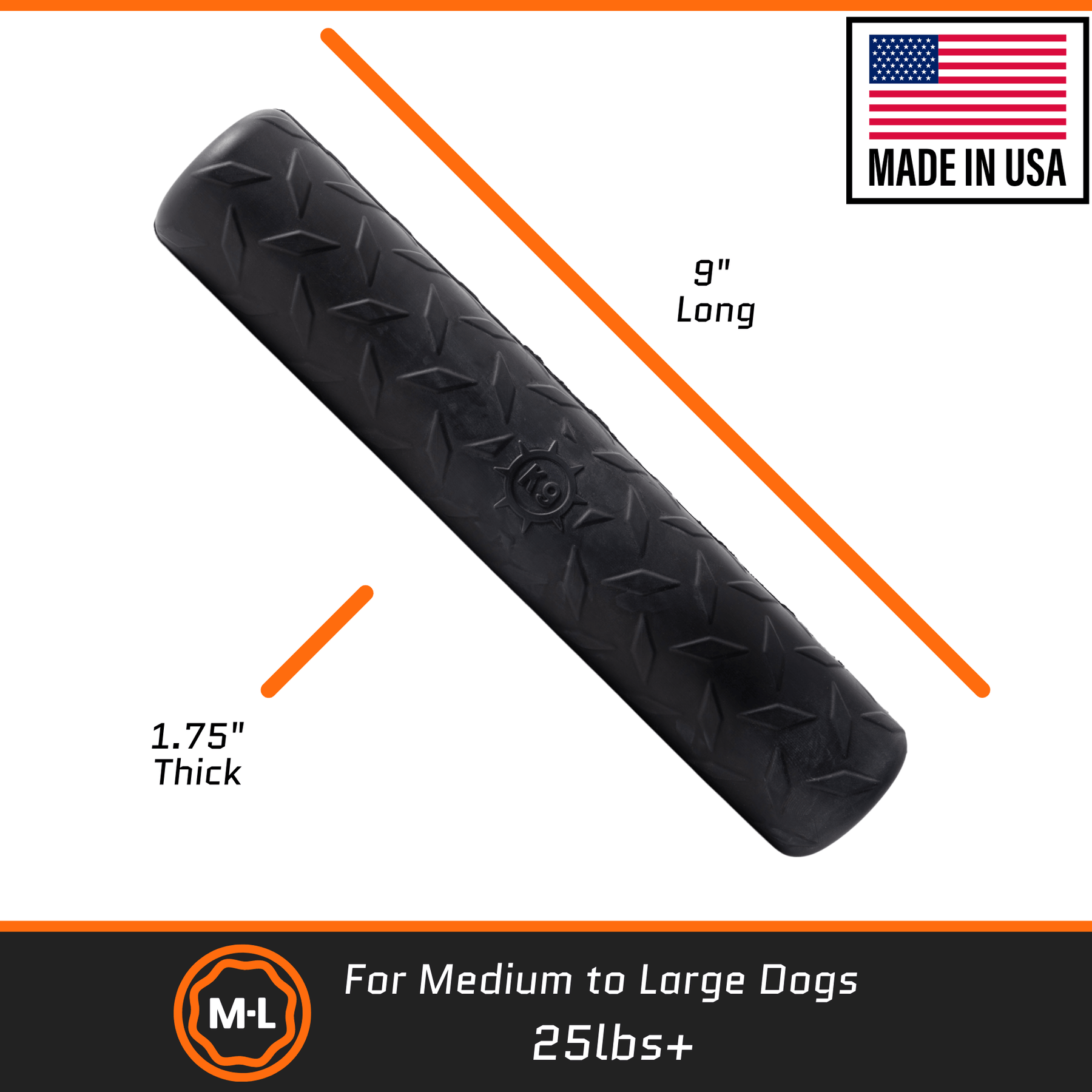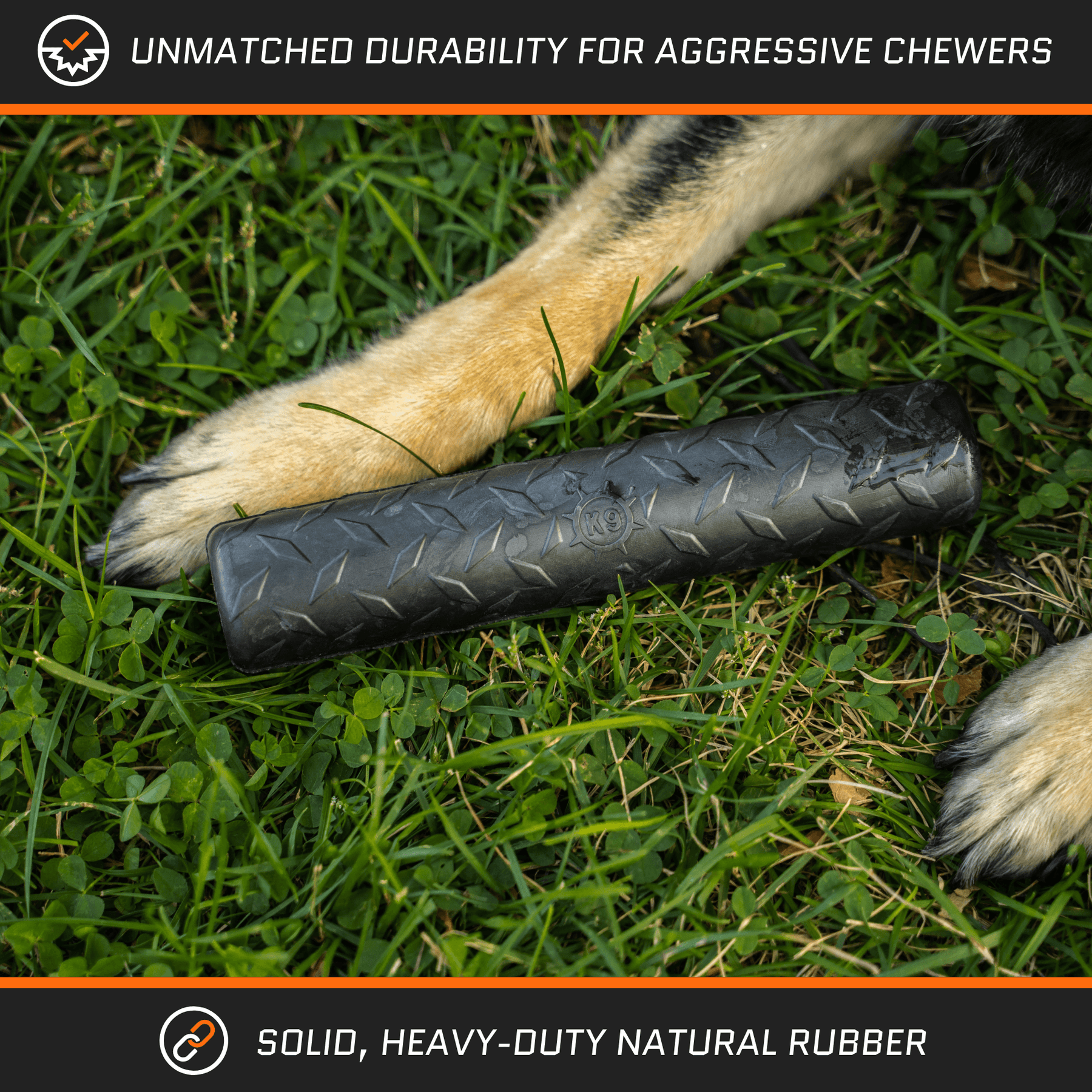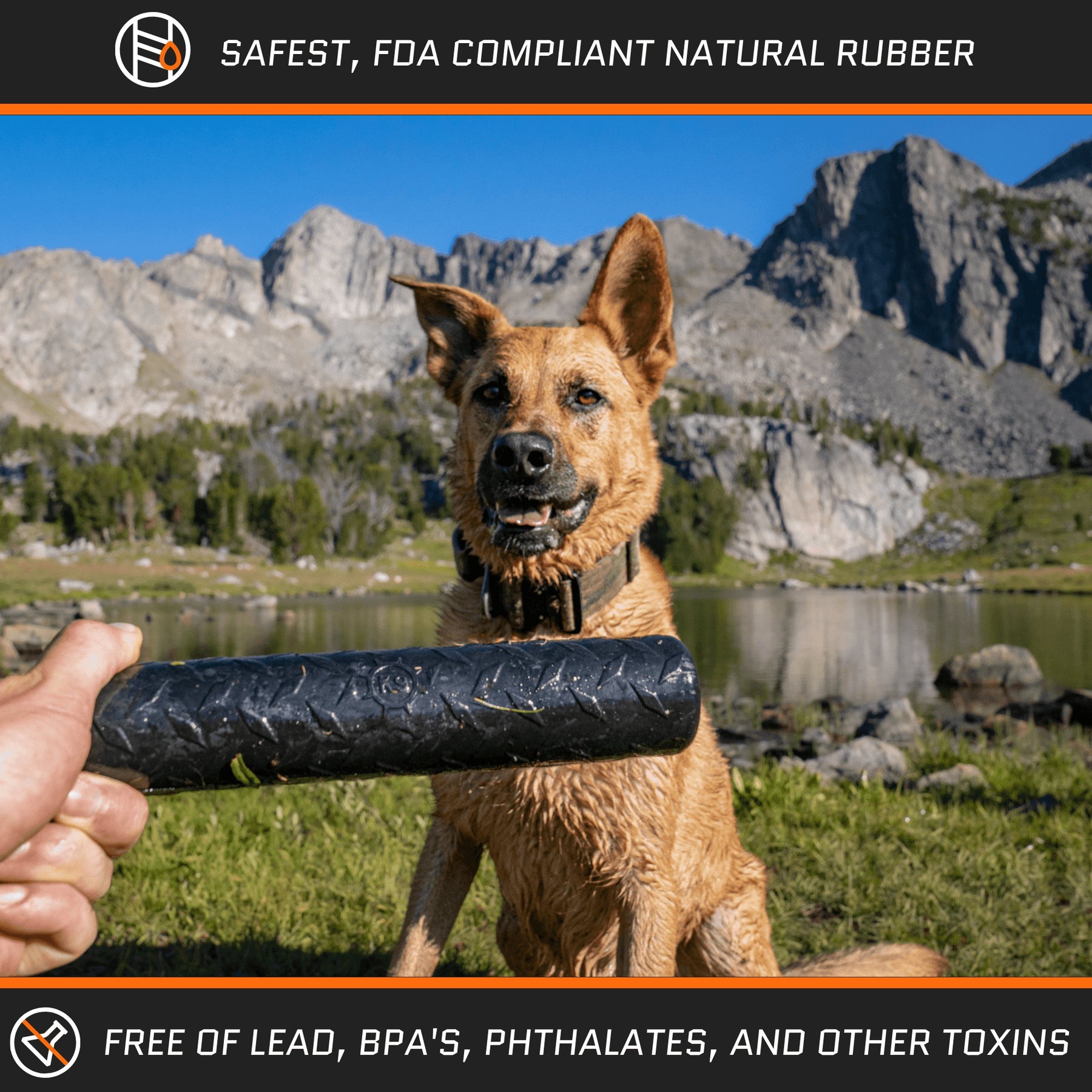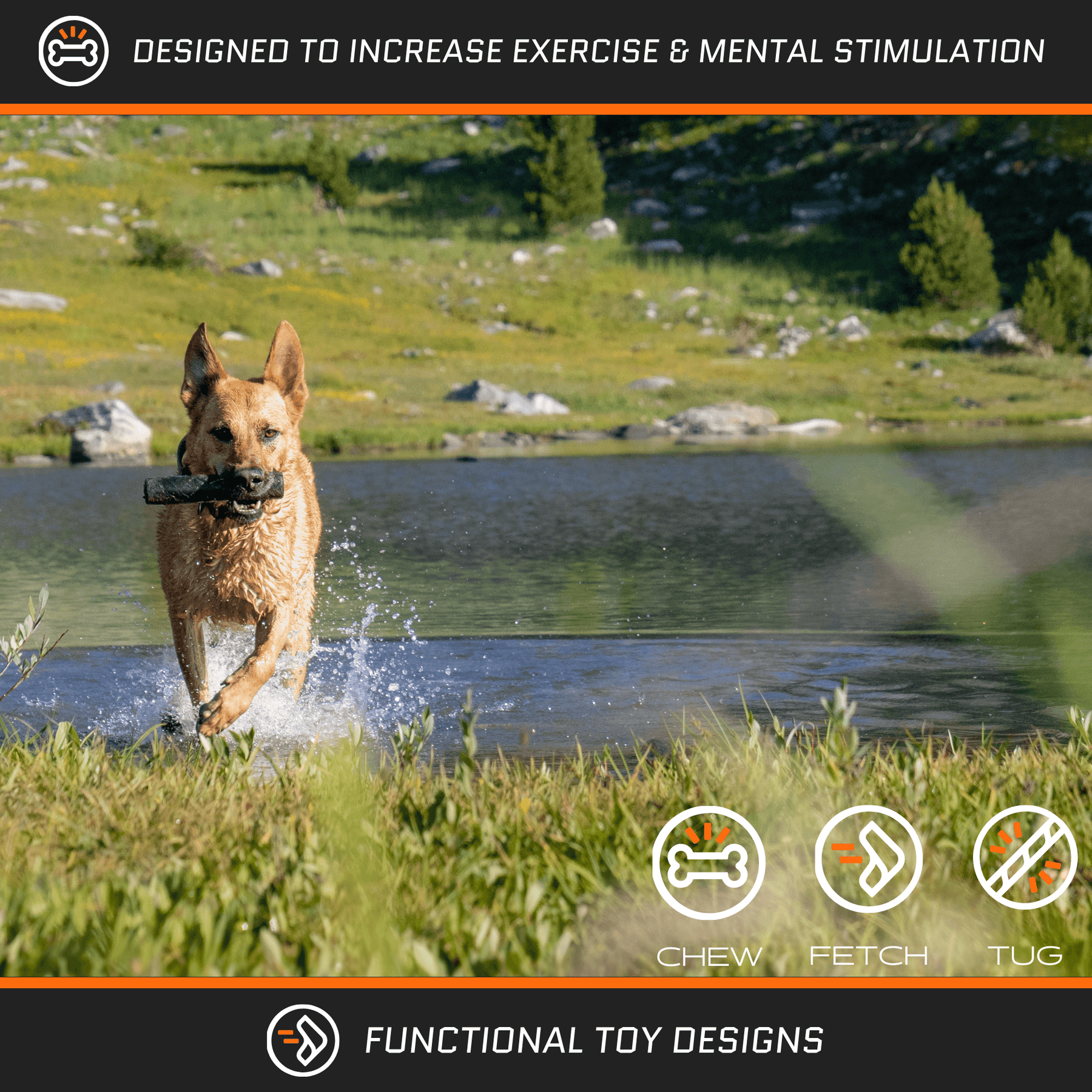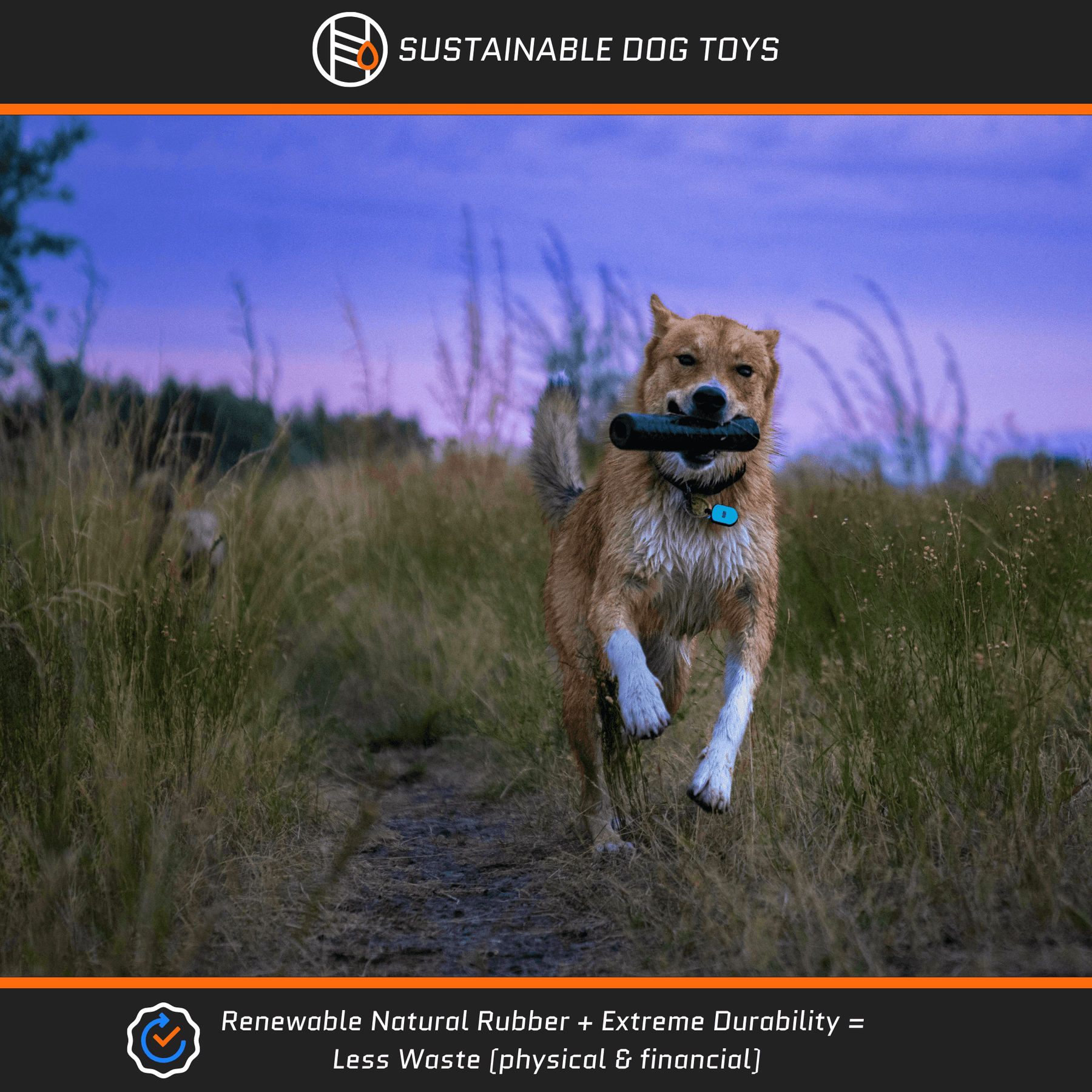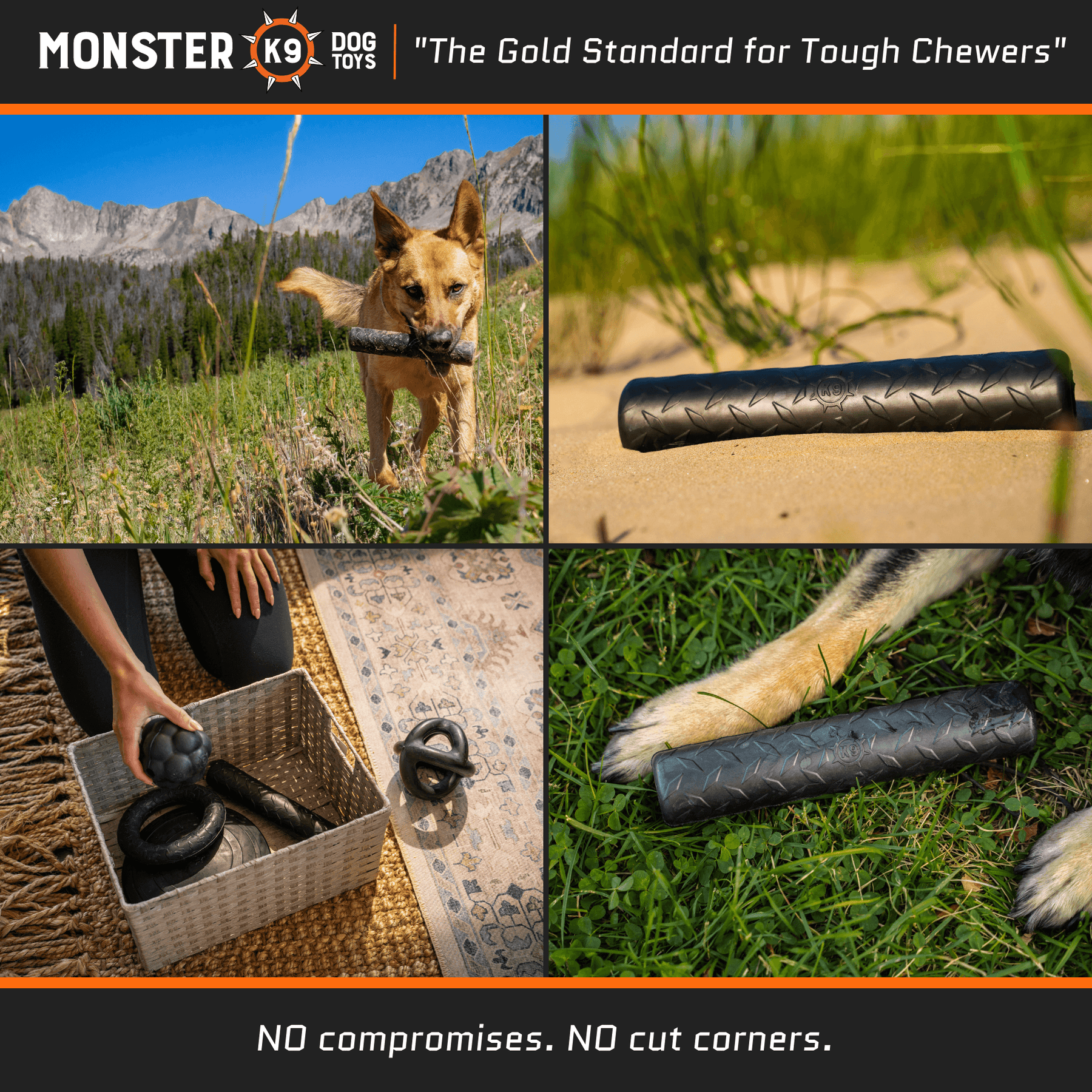 ULTRA DURABLE ChewStick
American Made Quality - Made in Erie, Pennsylvania
UNMATCHED DURABILITY: "GOLD STANDARD FOR TOUGH CHEWERS": Our proprietary rubber compound is puncture, chew, and tear resistant, yet soft and flexible for safe chewing; solid, heavy duty design; engineered to be as strong & indestructible as physically possible for long-lasting durability.
SAFEST NATURAL RUBBER:

 

Compounded in the USA. Free of lead, phthalates, BPA's & other toxins. FDA Compliant. Tested by a 3rd Party. 

 

No sharp edges or splintering. 

 

Ultimate Safety & Peace of Mind.
ALL DAY PLAY:

 

Increase exercise & mental stimulation with functional toy designs that are tough enough for long play sessions; chew, tug, fetch, and roll; to keep your pup active, strong, and healthy.
SUSTAINABLY MADE:

 

Made to last; sustainable natural rubber + extreme durability = less waste & fewer toys bought over time. You and your pup will both be happier.
LIFETIME REPLACEMENT GUARANTEE:

 

We believe in backing up great products with great service. Doesn't hold up as long as you expect? Contact us for a full refund or one-time replacement. 

 

No questions asked.
Customer Reviews
Write a Review
Ask a Question
Filter Reviews:
toys
stick
Monster K9
products
chewer
chew toys
pieces
both
teeth
ring
02 Dec 2021
John H.

United States
I recommend this product
Indestructible
We have gone through many so called 'durable' dog chew toys. Our 40 lb. Australian shepherd destroys them all within a few hours...up till now. We purchased the K9 Chew Stick several weeks ago and it looks like new. The rubbery texture of the stick prevents tearing. Monster K9 products are truly the most durable chew toy line we have found. We also bought the Ring Ball and Bouncer Ball and have seen identically good results. Highly recommended.
28 Nov 2021
Kevin D.

United States
I recommend this product
Extremely durable chew toy
It makes an excellent fetch toy as well as a chew toy for when I am sitting on the couch watching TV with my puppy. Highly recommend all the products from this website.
I recommend this product
Super durable
Our Grandog Pepper is a Lab and can tear up toys in seconds. Rope toy or firehose toys only last minutes. I bought the stick and the ring. After 3 days both are holding up great no visible damage. She really loves it. So now I'm get one for her to take home.
09 Nov 2021
Betsey

United States
I recommend this product
So happy I bought these!!
So happy that I found these! We have two staffordshires under the age of 2. Both can take chunks out of the extreme Kong in under an hour. Bought the chew stick and the football to see how'd they'd hold up. Twenty-four hours in and there are just light teeth marks in them. I ordered two more sticks today so we have extra. Love these!
18 Oct 2021
Anonymous

United States
I recommend this product
Best toy ever
My 10 mo old mix breed loves this…Hasn't torn it up yet…Definitely a great product and will buy more from monster k9
07 Oct 2021
Nichelle S.

United States
I recommend this product
Stands up against two Bull Terriers!
The durable chew stick has been the only toy I bought recently that hasn't been annihilated in the first hour of play. Both my Bull terriers are expert toy destroyers, and these have so far been one of the best chew toy purchases I've made. They both take turns gnawing on it for hours and you can barely see any marks on it. It also doesn't have a strong odor like some other durable tough chew toys we've bought in the past.
19 Sep 2021
Lynn M.

United States
I recommend this product
Chew Stick
I was very pleased. My young dog is an aggressive chewer. I have ordered other toys that were for that purpose but not one of them held up except your duraable cjew stick. He loves it. Customer service is amazing.
15 Jan 2021
Terri T.

United States
01 Jan 2021
Sue E.

United States
I recommend this product
First and Second Purchase
Fantastic! We adopted our first pitbull mix in July and she destroyed all the toys we had and even new ones that said they would last. I came across an ad for Monster9 and decided to try one for her. Even though it was just before Christmas I received my order in 3 days. Decided to try two more for my son's two pitbulls. They let him know the package was for them even before he knew and won't let go of their toys.
01 Jan 2021
Anna T.

United States
21 Dec 2020
Anonymous

United States
I recommend this product
My Doggie
I have a American Bulldog/Pit Mix. He usually destroys a toy in less than 5 minutes and with Monster K9 we are going on a year with some of the K9 Toys.. Love your products!
17 Dec 2020
Kelly D.

United States
11 Dec 2020
Amberly C.

United States
I recommend this product
Amazing
My dogs DESTROY all the toys. One loves tearing toys into tiny pieces, but these have held up to her powerful chew. So glad I found these toys!
25 Nov 2020
Pamela M.

United States
I recommend this product
He Can't Destroy Them!
I was skeptical. How can these things hold up to my 60+ pound Pit Bull whose mission it is to destroy every single toy he gets his teeth on as quickly as possible? Well, I'm pleasantly surprised! He's had a couple of these for a few weeks now and there are some tiny bite marks. Not for lack of trying, but he can't seem to break them down. So, I'm sold. Thor will have these toys for as long as you all keep making them!!
22 Nov 2020
Anonymous

United States
I recommend this product
indestructible chew stick
These are the best as I have had then for over a month and my dog has not chewed them up I have the ball, chew stick and the doughnut love these chew toys
21 Nov 2020
Anonymous

United States
I recommend this product
Worth the money my dog loves it and has not destroyed it!
My girl Cali is 120 lbs and pretty much destroys all toys fast. I can actually leave her alone with this toy with no worries of her eating it thanks will be buying more
17 Nov 2020
Anonymous

United States
I recommend this product
Best durable toy ever for a working dog
I am a K9 handler with a very aggressive chewer. This is the best toy hands down that I have found for a working dog. My dog has had this toy over a month now and showed very little wear. Other toys would have been destroyed now and I would have to worry about my dog swallowing pieces and potentially causing a bowel obstruction.
16 Nov 2020
Anonymous

United States
13 Nov 2020
Jeannine H.

United States
I recommend this product
Chew stick
Paxton loves it..... I will buy again
10 Nov 2020
Anonymous

United States
I recommend this product
GREAT TOY
SO FAR ME DOBERMAN AND AMERICAN BULLY LOVE THIS TOY AND HAVE NOT EVEN DESTROYED IT !! GREAT TOY