ULTRA DURABLE Treat Ball
UNMATCHED DURABILITY: Our proprietary rubber compound is puncture, chew, and tear resistant, yet soft and flexible for safe chewing; solid, heavy duty design; engineered to be as strong & indestructible as physically possible for long-lasting durability. Whether you have a high-energy dog who plays non-stop, or a super chewing behemoth, since 2016 our toys are proven to outlast it all. Give your big dog a real challenge with a toy they'll love!

TESTED & APPROVED BY AGGRESSIVE CHEWERS: Thousands of large dogs and the most aggressive chewers have put our toys to the test: German Shepherds, Pitbulls, Bully's, Labs, and more. Our toys have passed the ultimate test, with great reviews to back them up! So if your dog can destroy our toys, they are one of the toughest dogs around ;)

SAFE & NON-TOXIC NATURAL RUBBER: Our unique rubber is compounded in the USA, and made of 100% FDA compliant food-grade rubber that is free of lead, BPA's, phthalates, and other toxins; top-rack dishwasher safe for frequent cleanings; and unlike most "durable" dog toys, they aren't made of hard synthetic materials like plastic or nylon, so they won't splinter and won't harm your dogs health (not to mention your floors and furniture). For your dog's health, and your peace of mind

CHEW, BOUNCE, FETCH, OR STUFF WITH TREATS: Designed with your pups favorite activities in mind; the outer bumps produce a super erratic bounce for intense games of fetch; the inner cavity is perfect for stuffing with treats and keeping your dogs attention for hours; and the solid, heavy duty design make it durable enough to last through it all

MK9™ LIFETIME REPLACEMENT GUARANTEE: If you buy any dog toy from us and it doesn't last as long as you think it should (congrats -- you're in the 1%!), we will issue you a full refund or a one-time replacement at anytime during the life of the product. No return shipping, no extra cost to you -- simple & hassle-free. We take great pride in being a small, product-focused business that stands behind their products.
Customer Reviews
88
reviewers would recommend this product
Write a Review
Ask a Question
Filter Reviews:
toys
ball
Monster K9
company
German
damage
chewer
pitbull
rubber
Belgian Malinois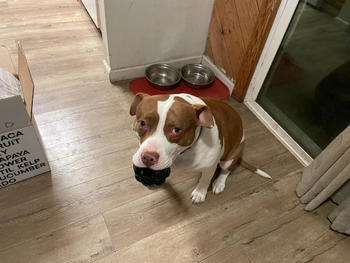 09 Mar 2022
I recommend this product
Super Durable!
My pitbull destroys almost all his toys in 2 days. This ball has lasted weeks with very little damage! The ball is just as durable as they advertise, which is a nice change from being disappointed by so-called "ultra-durable" dog toys that get ruined so easily.
Anonymous

United States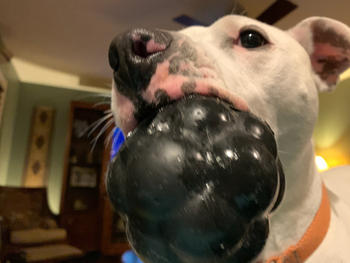 27 Jan 2021
I recommend this product
Awesome Product
Out pit has to have a ball in his mouth all the time and chews through them quickly. This ball seems like it will hold up well...it is very thick rubber and so far, he has not done any damage to it.
Louise M.

United States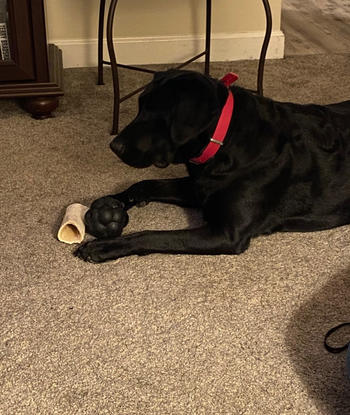 16 Jan 2021
I recommend this product
Amazing
Best toys ever I have a lab who loves her toys n bones got these for Xmas for her not a tooth mark in one yet n she chews for hours
Anonymous

United States
29 Jul 2022
I recommend this product
Didn't last 45 minutes
Got this for my sos pit bull, she destroyed it in about 45 minutes, I didn't keep receipt cause I thought it would last.
28 Jun 2022
I recommend this product
Worth every penny
I have a Belgian Malinois with a talent for destroying everything given to her. So far every toy I have bought from here has not only lasted months, but barely have any marks at all. These have been the only toys I have found that are actually indestructible for my dog. Can't wait to buy even more…. Just wish they had more colors
Anonymous

United States
15 Mar 2022
I recommend this product
Finally, a dog toy my dog cannot destroy!!!
This is best i have found, yet. Not even my dog can destroy it. I highly recommend this product.
Robert F.

United States
28 Oct 2021
I recommend this product
Atlas loves it
Atlas really loves it. It's durable enough for him not to chew it up
Deb B.

United States
22 Oct 2021
I recommend this product
Loved it
Omg Jagger my German Shepard grand dog absolutely loves his new ball, even started bouncy it on the floor when playing with it. I'm so happy I discovered your company. Thank you , Nana & Jagger
Anonymous

United States
17 Aug 2021
I recommend this product
Outstanding toys
Bought 3 different toys and love them. My Belgian Malinois can destroy everything but he still has these. They are outstanding toys and I would recommend them.
Patty

United States
09 Jul 2021
I recommend this product
Bouncer Ball & Ring
The best products by far, nothing on the market that holds up against my 90lb German Shepard Dog Max, Max destroys all the other toys in minutes, but not Monster K9 products, Max cant even make a dent in either of the products I have purchased from Monster K9. Thank you for giving Max the enjoyment he deserves from you high quality product.
Mark A.

United States
06 May 2021
I recommend this product
Ultra Durable Bouncer Ball
Absolutely love it! Our 1 year old golden lab cannot get enough of it!! Another happy customers with this along with the other monster toys we have bought!
Lisa M.

United States
12 Apr 2021
I recommend this product
Too Heavy to Allow Dog to Catch.
We have a 100 lb. Golden Retriever who's a very tough chewer, and he loves to catch balls tossed or bounced to him. The ball is too heavy to safely do this with him.
Anonymous

United States
22 Jan 2021
I recommend this product
Great products!
Wonderful!! My dog loves this. We have several different toys from this company and all have stood up to my avid chewer
Anonymous

United States
20 Jan 2021
I recommend this product
5-star customer service
This ball is extremely durable and made of very high-quality rubber. Also it's a safe size for large dogs at 3.5 - 4". It was actually a little too large & hard for my dog, so I asked about returning it unused and they told me just to keep it and they'd refund me anyway. Great company.
Anonymous

United States
09 Oct 2020
I recommend this product
Truly Indestructible
We have other toys from Monster K9 and they are truly Indestructible, plus our dogs really live them. Highly recommend!
Celeste L.

United States
03 Oct 2020
Super tough and fun!
What fun by pittie is having with this toy. He loves just chewing on it but really loves chasing it around when we roll it, or when he tosses it for himself. It has lasted weeks without bits coming off while he chews. In my house, that's a miracle.
Kari H.

United States
15 Sep 2020
I recommend this product
Sadly, my Pittie is part of the 1%
I saw these products on Amazon and read the reviews and guarantee and sad to say, my 3 year old pitbull is part of the 1% who destroyed the indestructible I am sad because these are quality products and she absolutely loved them. Maybe too much. This 5 star review is for Monster K9 as a whole. The customer care is beyond great. They answered my questions, saw my issue and offered me replacements or a complete refund. Sent them pictures of the damaged toys and boom. I have my refund. I will definately buy again if we get another less aggressive chewer in the future.
Dick K.

United States
08 Sep 2020
I recommend this product
My Doggie
I have a American Bull Dog/Pit Mix and this is the only Toy he doesnt destroy.. Love them
JULIA G.

United States