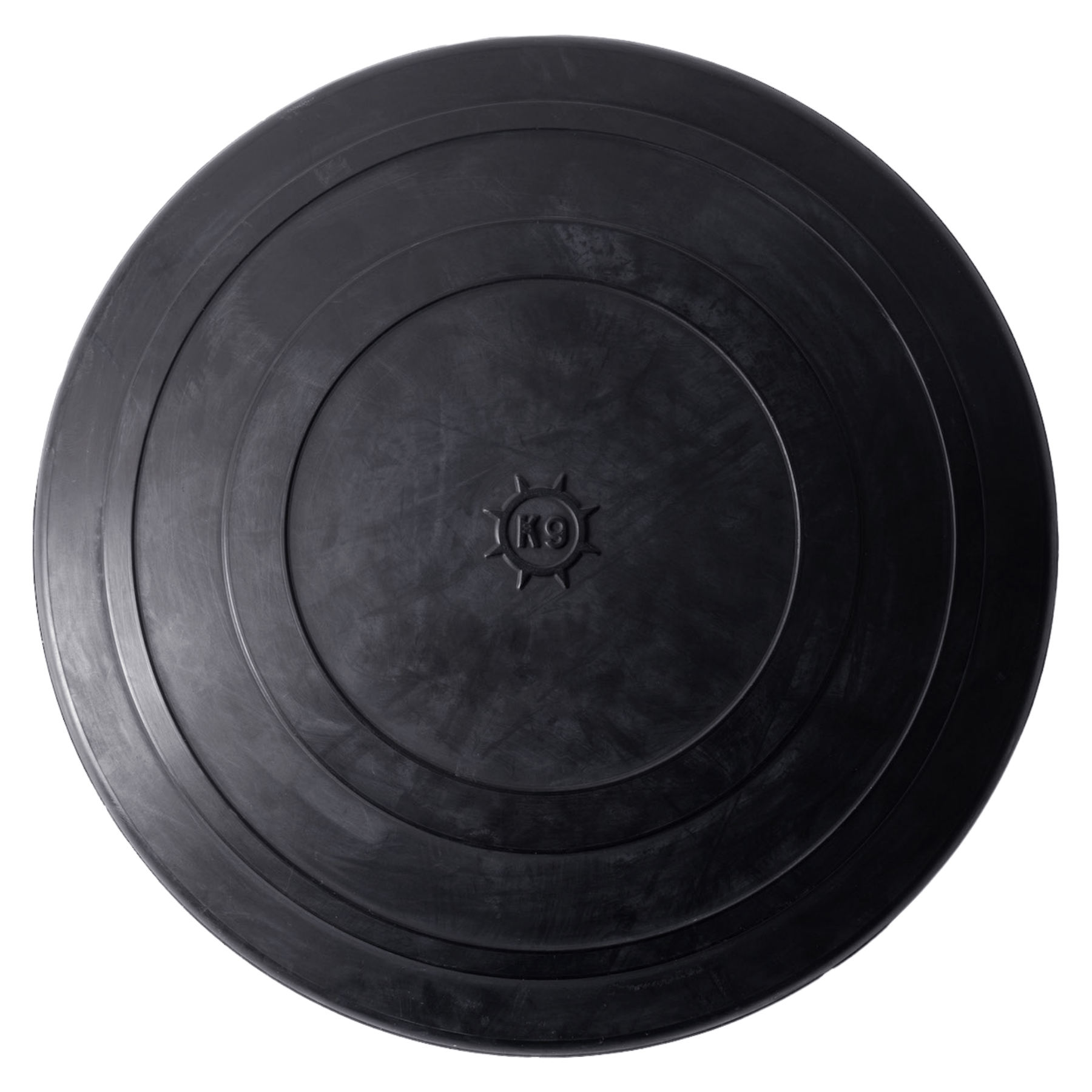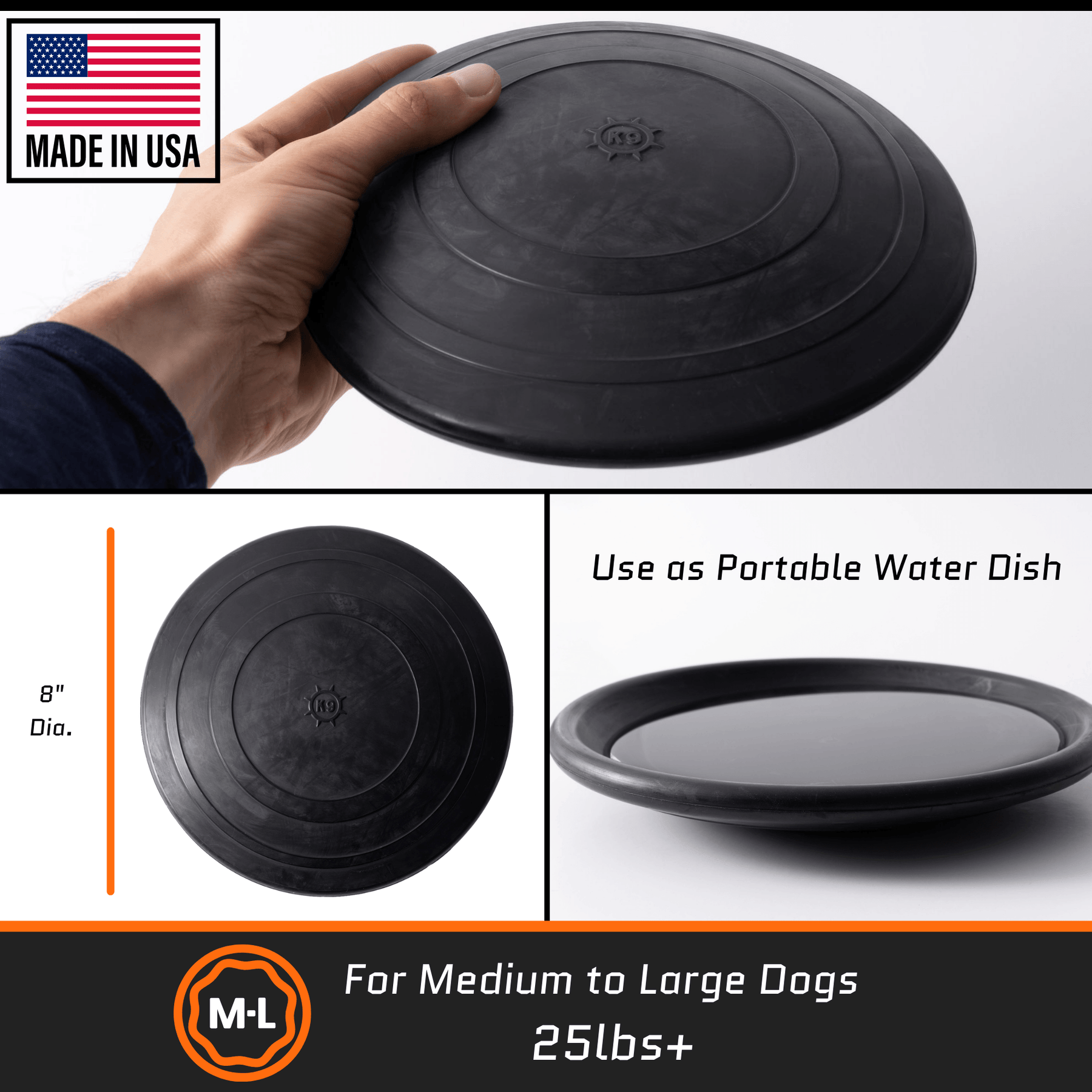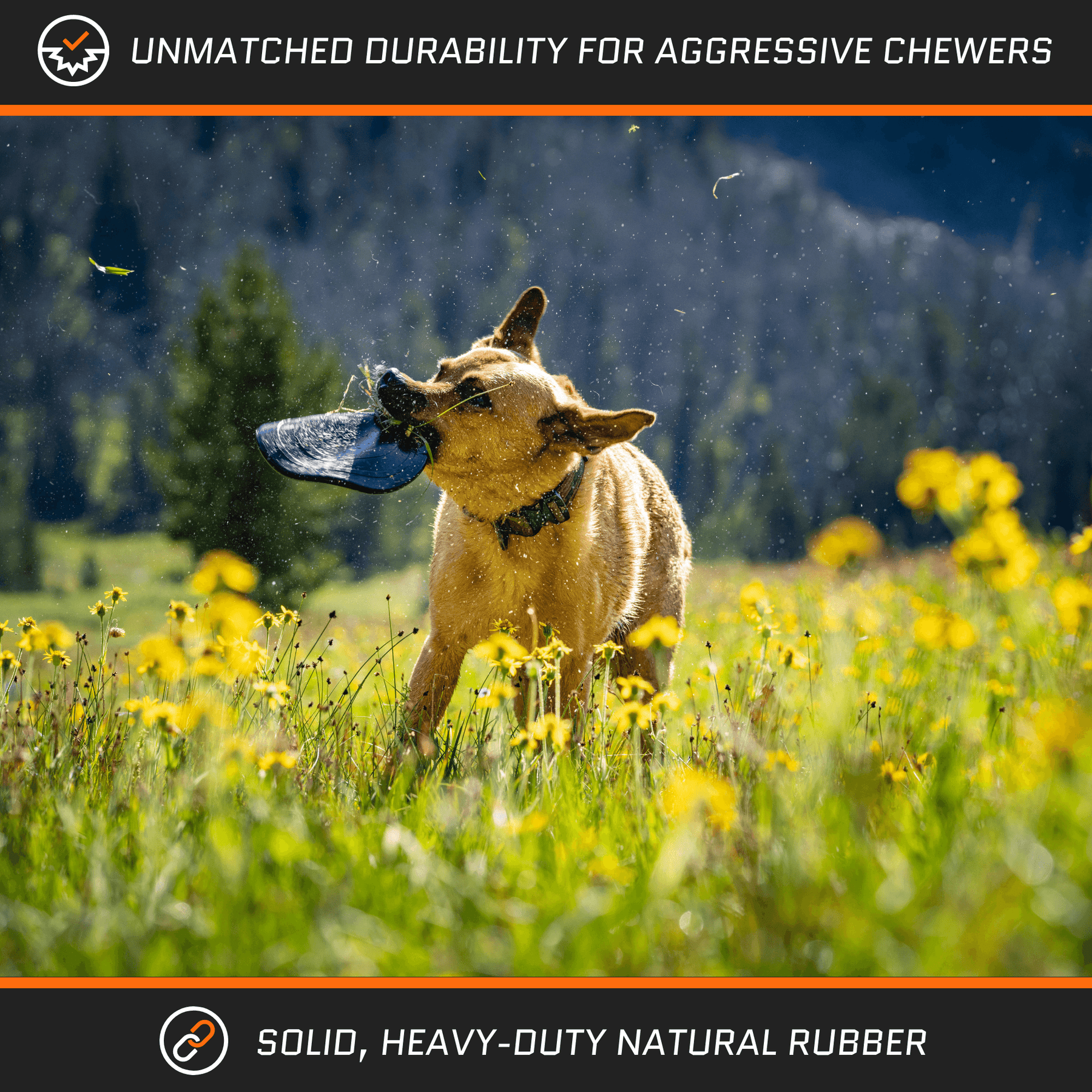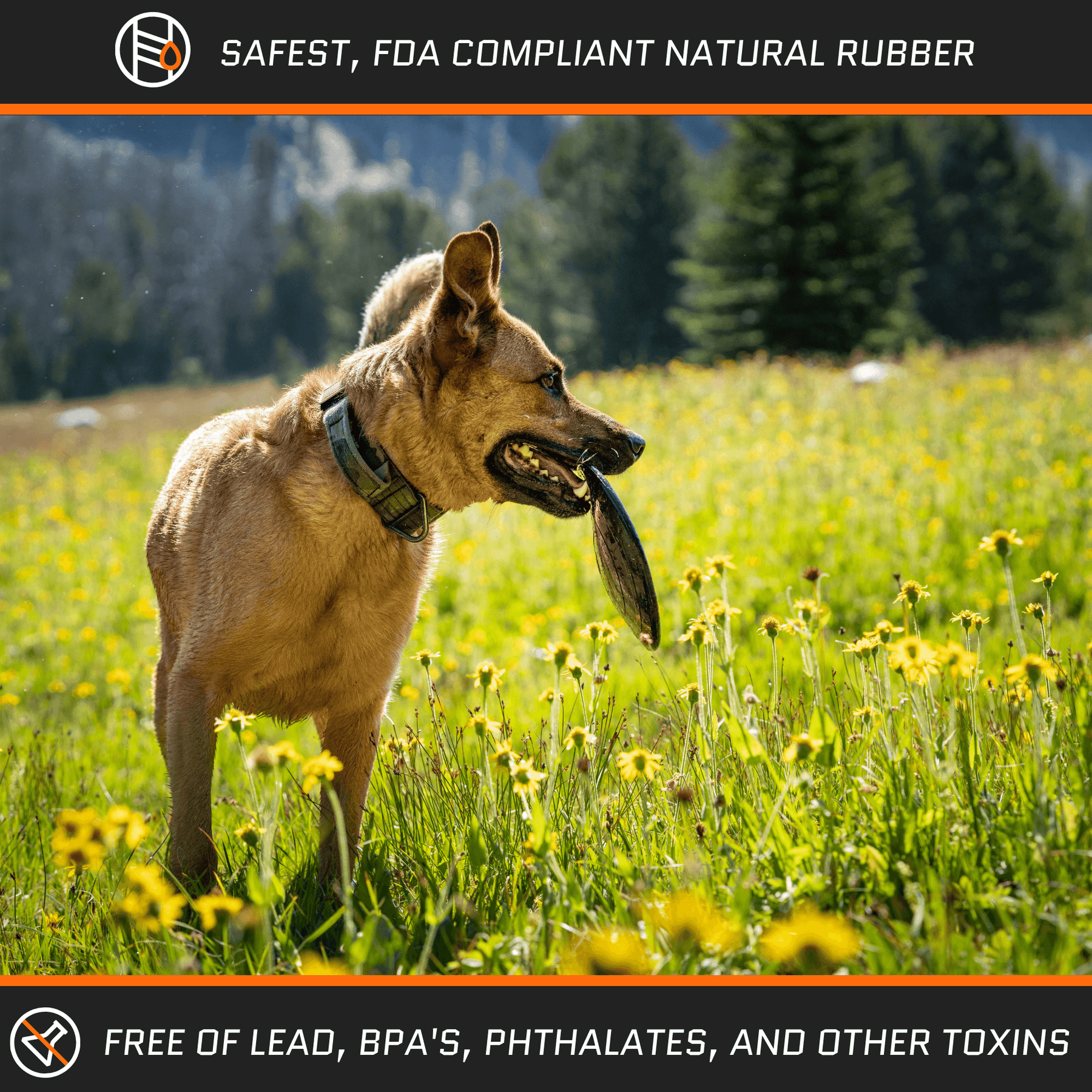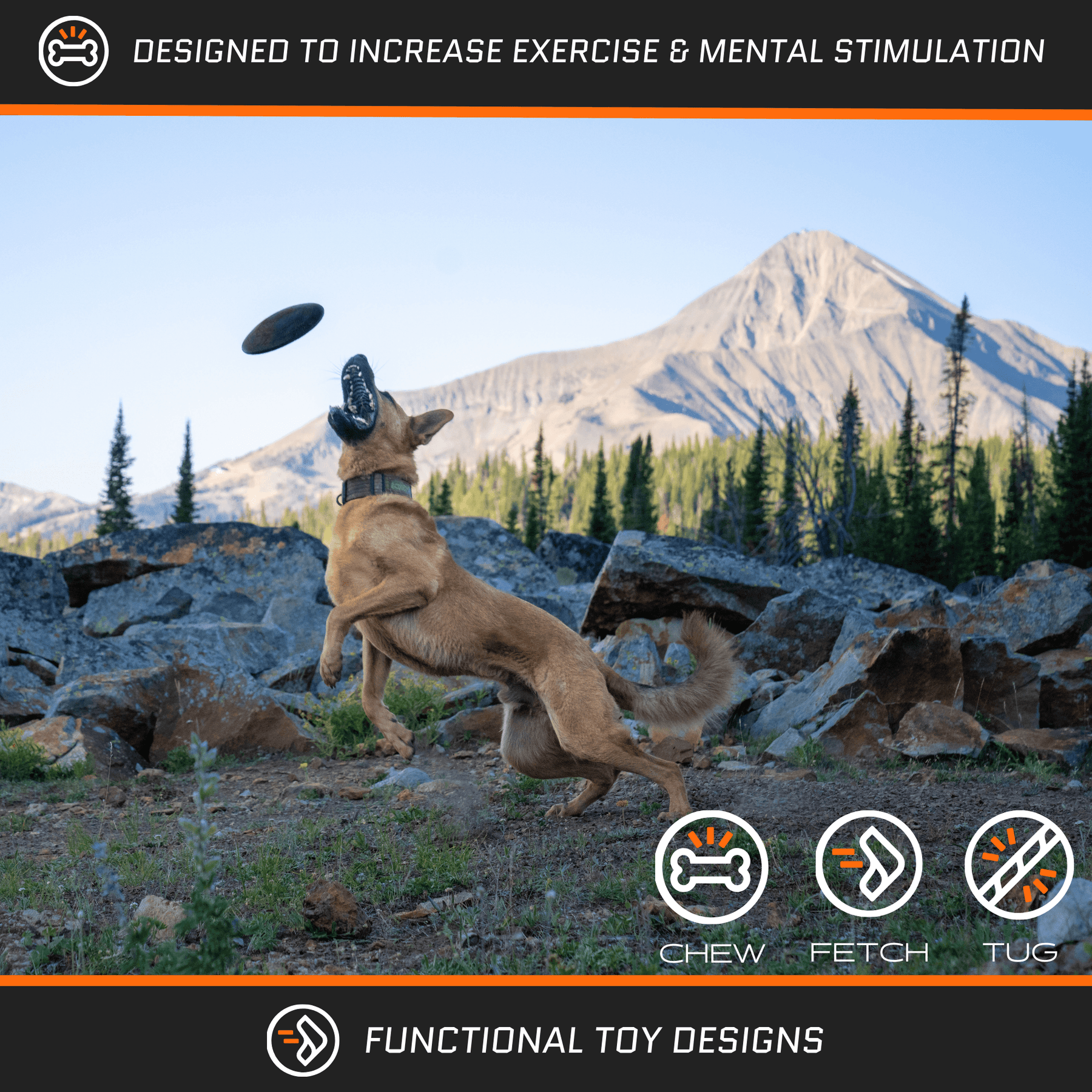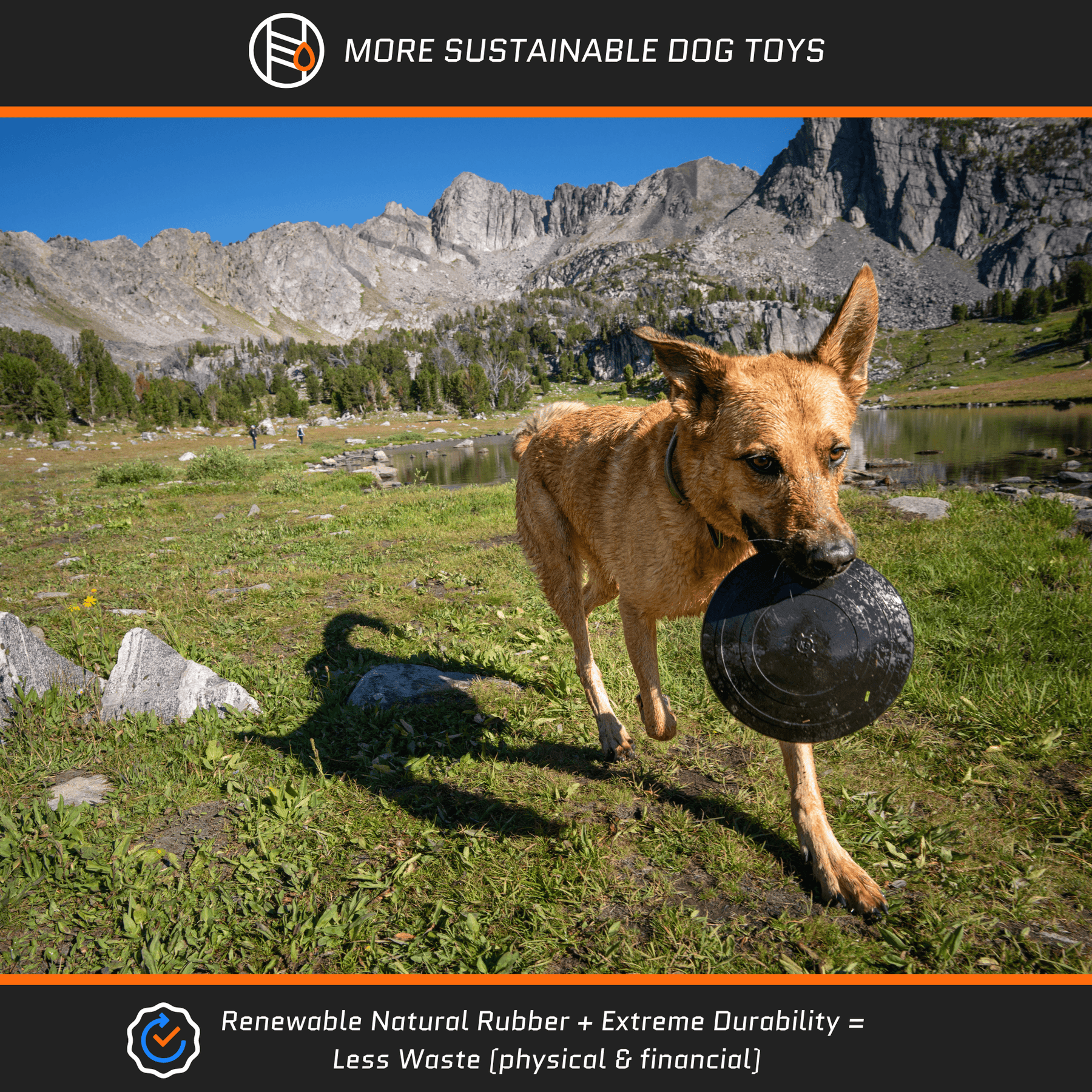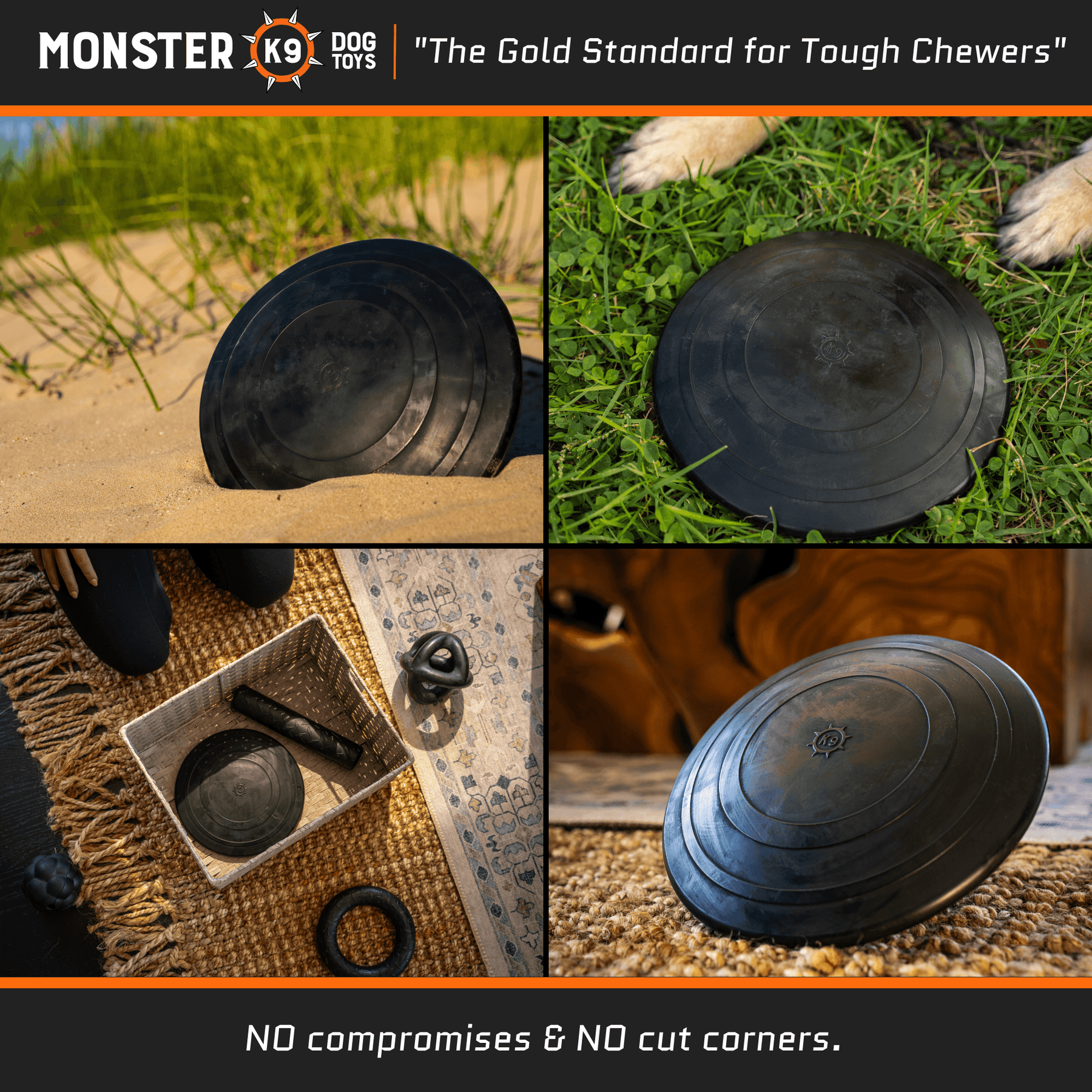 Aero Disc
American Made Quality - Made in Erie, Pennsylvania
UNMATCHED DURABILITY: "GOLD STANDARD FOR TOUGH CHEWERS": Our proprietary rubber compound is puncture, chew, and tear resistant, yet soft and flexible for safe chewing; solid, heavy duty design; engineered to be as strong & indestructible as physically possible for long-lasting durability.
SAFEST NATURAL RUBBER:

 

Compounded in the USA. Free of lead, phthalates, BPA's & other toxins. FDA Compliant. Tested by a 3rd Party. 

 

No sharp edges or splintering. 

 

Ultimate Safety & Peace of Mind.
ALL DAY PLAY:

 

Increase exercise & mental stimulation with functional toy designs that are tough enough for long play sessions; chew, tug, fetch; to keep your pup active, strong, and healthy.
SUSTAINABLY MADE:

 

Made to last; sustainable natural rubber + extreme durability = less waste & fewer toys bought over time. You and your pup will both be happier.
LIFETIME REPLACEMENT GUARANTEE:

 

We believe in backing up great products with great service. Doesn't hold up as long as you expect? Contact us for a full refund or one-time replacement. 

 

No questions asked.
Customer Reviews
Write a Review
Ask a Question
Filter Reviews:
frisbee
toys
Monster K9
edge
chewers
things
ball
German
Video
pieces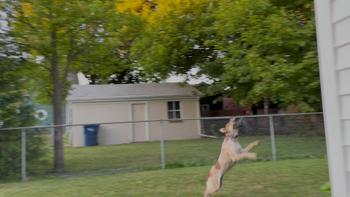 19 Jan 2022
I recommend this product
Wow!!
The frisbee is amazing!! I have had the frisbee for around 8 months with my boxer/jack Russell/Australian cattle dog mix(Indy). Indy loves to play tug, fetch and shaking this frisbee He has had other indestructible frisbees that have only lasted a week. There is not one hole in this frisbee, love it!!
Karen

United States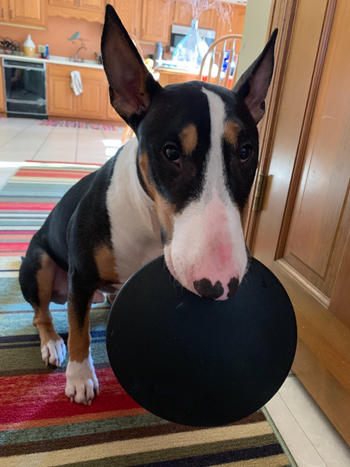 22 Jan 2021
I recommend this product
Bull terrier proof frisbee
1st frisbee that my bull terrier hasn't wrecked in a couple days!!!!! Over the moon thrilled with this frisbee & if this frisbee ever needs a replacement, will DEFINATELY buy another one from Monster K9!!!!!!!!
Susan e.

United States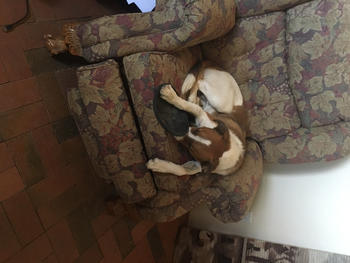 03 Jun 2020
I recommend this product
Indestructible Frisbee? No Way!
Yes Way! Sure enough, my dog has made short work of every frisbee he's ever seen, but not this one! When we get home from a hike or a run, he bee-lines into the house to grab his frisbee and run back outside to play. Highly recommended!
Peter F.

United States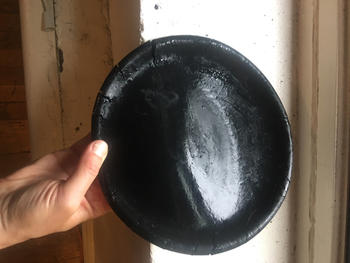 23 May 2020
I recommend this product
Love it so far...however...
Hi guys, this frisbee is great. It's heavier than most. It flies very well and far. However...I don't know if it's indestructible. My German shepherd who's a destroyer of all things frisbee, has already put some cracks into it along the edge, as you will see in the picture. In conclusion, I love it and waiting to see how long till it's ripped or maybe not. I'm ok with the cracks on the sides as long as the whole body is intact. Plus, it's supposed to be lifetime guarantee, so we'll see. Overall, I recommend it.
Svetlana M.

United States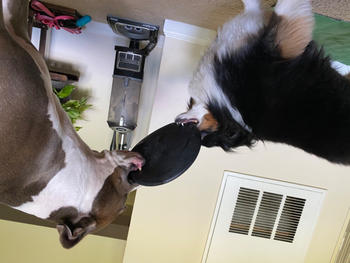 21 May 2020
I recommend this product
Surprised!
I thought surely my pittie would have this torn up quickly, but I am seriously surprised it has held up! Even with him playing tug-a-war with it, it hasn't torn (yet, but I'm happy it's lasted thus far!) Definitely recommend. I've found it's worth it!
Autumn D.

United States
18 Oct 2023
I recommend this product
2 Danes, a Newfoundland and a Kelpie walk into a back yard! Lol
Well when I got it I gave it to them they absolutely went crazy with it they fought over it chased it around the yard tried to tear it to pieces and didn't even get a bite mark in it and that made them even more determined! LOL it's one of the most durable toys I have ever had the pleasure of giving my dogs!
Becca I.

United States
20 Mar 2023
very durable frisbee
Our puppy likes to fetch this and it is durable.
Anonymous

United States
04 Feb 2023
I recommend this product
Frisbee
My little red healer cattle dog loves her frisbee. Normally she can destroy one in a week. This monster k9 ultra durable is still totally like new! Going on 2 years now! Love it!
Anonymous

United States
09 Jan 2023
I recommend this product
toughest frisbee ever
i have 3 mastiffs and a lab, they DESTROY toys.. never had a Frisbee last more than a week!! ! have bought every tough toy on the market.. these frisbees are the real deal; indestructible!!
Robert B.

United States
24 May 2022
I recommend this product
Best dog disc ever period.
My pit bull is a chewer and loves tug of war and playing catch. I've tried other products and within moments they are destroyed. Then I found the K9 ultra durable. It took my pitty over a year of daily play and relentless chewing before I had to replace it. Literally the toughest dog toy that we both love to play with. I'm a avid disc golfer so throwing it is awesome for hyzer flips or hyzer sidearms. And my doggo loves that she can grab it easily when it's flat on the ground, an issue with the hard plastic catch discs. I believe I found the last disc I'll ever need to entertain myself and my beloved pup. I recommend this to anyone who has a dog who likes to catch.
Dick D.

United States
20 Mar 2022
I recommend this product
Handles the elements and the teeth
These Frisbees fly well, are super, super durable and have seen zero sign of wear with an 85 lb GSD that loves tearing things up. We walk whether it's minus 10 or 70*. The products are awesome!! Finally! Much better than the "Red" brand
Brian ..

United States
11 Feb 2022
I recommend this product
These are good people.
My bulldog loves this the best; we play keep away and tug Awar!
David B.

United States
23 Oct 2021
I recommend this product
Best.Frisbee.Ever.
This is the only frisbee that lasts more than a few minutes in our doggo's razor sharp teeth. He lives for frisbee, and thanks to the exceptional customer service, we always have one on hand.
Kurt F.

United States
21 Oct 2021
I recommend this product
Only frisbee that lasts
This is a durable frisbee that stands up to my dog's rugged play. I've had a hard time finding it, but Monster K9 had it. Ordered two and got them promptly.
Anonymous

United States
21 Oct 2021
I recommend this product
Longest lasting frisbees out there!
My Border Collie has an unhealthy obsession with frisbees. Unfortunately for my hubby and I we have spent around $250 in frisbees (the past year). I tried Kong and Nerf- two of the largest companies products and neither lasted anywhere near how long it takes him to go through a K-9 frisbee. They are also the only company to guarantee a replacement toy or money back, which is a huge plus in my book. We already purchased several back-up frisbees because they tend to go out of stock for periods of time. Pup and i give K-9 frisbees a 5 paws!
Laurie B.

United States
08 Sep 2021
I recommend this product
Most of the Toys are tuff
If you have real aggressive chewers the frisbee is not an option. This is my dogs second frisbee and they destroyed it in record time (about a week and a half). I tried to contact K9 and never saw a response. Although I would not buy the frisbee again there toys are the best out there and I do back there product and will buy more.
Gordon L.

United States
05 Sep 2021
I recommend this product
Indestructible
Fabulous! I'll let the attached video say it all. I have recommended this product to two people over the last week and I hope they will accept my recommendation. They won't be sorry!
Kevin D.

United States
08 Aug 2021
I recommend this product
good so far
so far they havent torn up, seem durable, but they throw/fly awkward and could possibly benefit from more of a rim
Michael P.

United States
24 Jul 2021
I recommend this product
Ultra Durable Frisbee
So far the frisbee is holding up well. We haven't had it very long. Loki is a huge frisbee dog. So I'm hoping this one won't tear as quickly as the last one. It does fly really well.
Ellen F.

United States
15 Jul 2021
I recommend this product
Holds up to destructive monkeys!
My team recently purchased this frisbee for our troop of Japanese macaques. Although they are notoriously hard on toys, this one has held up great! The flexibility of the frisbee is delightful. We are quite impressed with this brand so far and look forward to trying out more of their toys.
Anonymous

United States